July 7th, 2014
Here are three reasons why you should sign up now for the User Interface 19 Conference in Boston,
October 27-29.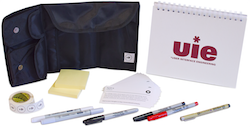 Save $300 when you register now and pay $1,695. Starting July 25 the price goes up to $1,995.
Beef up your UX skills before you get to UI19 with All You Can Learn by UIE. It's yours free as soon as you register.
You'll get a bonus gift of a designer's toolkit. It's a great way to iterate and share ideas in physical form.
Tweet